Online gambling is easily more popular than ever before. With so many alluring promotions and games out there to entice players, it is only natural that responsible gaming practices have come to the forefront. Long gone are the days when online casinos couldn't give a fig about their players' well-being. Stricter licensing regulations and conditions have forced casinos to take better care of their players, in a bid to stamp out irresponsible gambling habits. Most of the biggest and best casinos now go above and beyond to ensure that players wager responsibly.
Of course, while casinos can do much to alleviate the ills of irresponsible gambling, some of that responsibly also falls on the part of the player. This starters guide looks at the tools available to players to ensure that they gamble responsibly. It looks at practices that you can put in place to ensure that you are wagering sensibly. It also looks at some tips and tricks to make sure that while your gaming activities are fun, they aren't ruinous.
An Introduction to Responsible Gambling Practices
Let's start with the obvious. If you're not aware of it yet, irresponsible gambling is when a player wagers recklessly. This often means depositing and wagering without a care for their finances. It can also mean being sucked into an addiction to spending on games, particularly chasing losses to try and win back cash which was lost. There are other descriptions, too, and all these fit comfortably under the "irresponsible gaming" banner.
Over the last few years, major online casinos have cleaned up their act and now aim to prevent bad gambling habits via several measures. Let's look at some of the practices currently used to promote responsible gambling.
Casino-Based Tools
Online casinos will often have their own practices and tools in place to prevent and fight irresponsible gaming. Choosing a casino which offers a great set of responsible gaming tools is the first step to playing safely online. These can include cool down periods, opt-outs, deposit and wagering limits and more. Here we take a closer look at these tools.
Country-Based Options
In some countries, gambling authorities have implemented their own regulations and restrictions. These may include strict rules on what promotions and bonuses can be offered, limits to wagering requirements, the scrapping of withdrawal pending periods and more.
Internet-Based Blocks
Not every country has deemed gambling to be legal. Some countries have tried to stop their nationals gambling online by implementing blocks. ISPs (internet service providers) can prevent users from accessing casinos which feature on blacklists. Speaking of blacklists…
Licensed and Certified Casinos
Casinos which are licensed and regulated in a country are often the safest to play at, and the ones which adhere to responsible gambling practices. To highlight these casinos over "rogue casinos", countries may require their players to only sign up to sites bearing a license issued by their own gambling commission. If a casino isn't licensed out of the gambling commission in your country, it may not adhere to responsible gambling practices your country has deemed necessary to be in place.
There are, of course, lots of top offshore casinos which may cater to players in your country. Those licensed out of Malta, the UK or Gibraltar tend to adhere to responsible gambling practices.
Other Responsible Gaming Practices
It isn't just the casinos and gambling commissions/authorities who are doing their part to stamp out risky gambling habits. Leading casino and gambling websites are chipping in too. On this page, for instance, you will find a plethora of tips and tricks to ensure that you're playing in the safest environment possible. We will look at these in our "How to Gamble Safely" section later.
---
Responsible Gambling Tools and Options Offered by Online Casinos
As mentioned, many of the best online casinos now take their roles in promoting responsible gambling very seriously. To help players make sure that they are on the right track, these casinos now provide a wealth of tools and options. These can all be used to ensure that you stay on the straight and narrow. Let's look at these in a little more detail and see how they can be of critical importance to you.
Self-Exclusion Periods
Any online casino which believes in responsible gambling practices will allow players to take a time out. Known as self-exclusion periods, these options will enable you to freeze yourself out of your account for a predetermined period. This may be as little as twelve hours, or as long as six months. You will often be able to choose from several periods of time. Once excluded, players will not be able to sign-in to their casino account until that period has elapsed.
Contacting customer support is not going to help you get back in. Larger domains can also provide individual self-exclusion options, specifically for sports betting, casino games, slots, and so on. If you realise that you have a problem with sports betting but not casino games (or vice-versa), this is a handy option to have.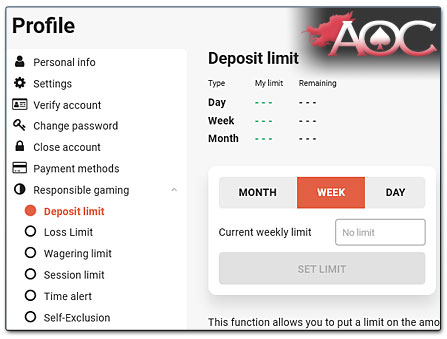 As well as self-exclusion periods, some sites may have "cooling off periods". These are essentially the same thing, although they will allow you to break your self-imposed exile and return to gaming before the self-exclusion period ends, provided you have stayed away during the cooling-off period.
Account Termination
If gambling gets too much, and you realise that you have a far bigger gambling problem than you thought, closing your account is an option. All online casinos permit players to close their accounts. Some of them will allow players to re-open them again after a predetermined timeframe has elapsed. For others, though, once you've terminated your account, you're done. Therefore, you will never be able to play at the casino using that account again.
Generally speaking, we wouldn't recommend closing your account for that reason. A self-exclusion period is often more than enough to give you the time out you need. Not being able to re-join the fun later down the line is a big risk and could be something you'll regret. Always think twice before closing a casino account.
Sister Sites and Related Casinos
If you've been playing online for any length of time, you will surely be aware that many casinos are owned by the same operator. Known as sister sites, these casinos often feature the same software, same licenses and sometimes, even the same layout, bonuses and promotions. What they also often share is the same responsible gaming program. If, for instance, you were to terminate your account at one casino run by Operator X, there is every probability that you'd be locked out of any other casinos and sister sites run by that same operator.
There have been cases featuring some slippery rules regarding this. It has been reported that players have self-excluded themselves from one site but have been allowed to continue playing at others. However, once they landed a win at the new casino, they were unable to claim their winnings on account of them being self-excluded from the older sister site. These practices vary from site to site. When playing with operators who run several casinos, it is recommended to check that the self-exclusion program spans all the sister sites, with no exceptions.
Responsible Gaming Programs
If you pop into the lobby of any major (and respectable) online casino, you will likely notice several logos at the bottom of the homepage. These can include GamCare, GambleAware, GamStop and several others. These are responsible gaming programs. The way that they work is quite clever and important if you take self-exclusion periods seriously.
In theory, if you decide to self-exclude yourself from a casino which is a member of these programs, you will also be barred from joining any other casinos on the net which feature in the programs. It doesn't matter if the other casinos are owned by the same operator or not. If they are members of the program, your self-exclusion period should apply everywhere. This can be something to keep an eye out for if you want to avoid scenarios like the one discussed concerning sister sites and related casinos.
Promotional Exemptions
Another essential tool in the fight against irresponsible gambling is available from the very moment you register. When you first sign up at an internet casino, you will likely be asked whether you wish to receive "marketing" from the casino via e-mail, telephone or text message. Marketing is a code word for "promotions".
At first glance, you might wonder why you wouldn't want to receive the latest news about red hot deals. However, this is where temptation comes into play. If a casino notices that you haven't deposited for a long time, they might try and lure you back with a tantalising deposit bonus. Almost all casino bonuses come with terms and conditions, but they won't be expressed in a big and bold font in the e-mail. Instead, they'll be tucked away in a corner somewhere. What seems like a great deal may in fact not be.
Most casino promotions can be readily viewed from the promotions page at a site. By opting out of receiving "marketing" from casinos, you are removing the temptation provided by a promotion or bonus, at least via e-mail, text or phone call. Players should also note that opting out of marketing messages does not mean that they won't receive mail from the casino. The site will still get in touch with you, albeit only about important notices such as changing terms and conditions, account details or other forms of essential communication. Addictive and tempting promos will be left out of the equation.
Limitations on Deposits
One of the most critical tools now commonly found at online casinos is the deposit limit option. This can often be found under the account settings tab at an online casino. In short, the option gives players the chance to set limits on how much or how often they can deposit. Some casinos have options which give players a choice of only being able to deposit once per day, per week or per month. Others allow you to wager up to specific amounts per sitting and may or may not include time limitations to boot.
The height of these limits can vary from site to site. However, players will usually find a decent range to choose from. If you do decide to set a deposit limit, there is one thing you should know. You will not be able to easily shift your cap. To do so, you will need to speak to customer support, where they will likely look at your gambling history to see if you fall under the description of a problem gambler. If not, you may be able to raise your limit. If you show the signs of irresponsible gambling, your limit will not be extended.
It is important to make sure that you calculate how much you can afford to spend (and lose) on gambling games before setting deposit limits.
Wagering and Bet Size Limits
Casinos can also offer players the chance to select wagering limits. Like deposit limits put a cap on how much a player can deposit into their account, wagering limits put a cap on what a player can stake on games during a given period. It is likely that this will involve stating that you are permitted to wager X during any 24-hour period, or that stakes on games cannot exceed X per spin or hand.
For instance: Players can opt to set a wagering limit of $100 per day, and they can decide that a spin can cost no more than $2 a game. They might set this limit to apply to a 24-hour period. Once $100 has been spent, you cannot bet anymore. Wagering limits are not based on profit or loss. They are based on what has been staked. So, for instance, even if you were to win big money on every single spin, you'd still be limited to $100 in wagers. It doesn't matter if you win millions of dollars before that $100 limit is reached. Once $100 has been staked, you're frozen out for the rest of the day, or however long you've decided to set the wagering limit to.
Limitations on Losses
These work in much the same way as the other options, such as deposit limits. Players can choose a limit on how much they are permitted to "lose" per day. Once players have lost the amount they have set (over a day, a week or a month), they will be frozen out. Unlike the wagering limits option, limits on losses are calculated.
With loss limits, the amount a player has won will be taken into consideration, and re-calculated. Therefore, limits on losses only apply to net losses. In short, you've already decided how "low" your balance can go, and you can keep on betting until it hits that figure.
Caps on Session-Length
Many of the more respectable casinos have session limits, too. If you're not the type of casino player who is comfortable putting a number on how much you can spend, lose or bet, then session limits might be more your cup of tea.
With a session limit in place, players are only allowed to gamble during a set period of time. That may be an hour, two, perhaps even five hours. It is up to you to choose from the options a casino presents you with. Once you're wagering, you have a predetermined timeframe to gamble within. Once that time limit has expired, you will be frozen out of your account until the following day.
Reality Check
Online casinos which have not seen fit to implement caps on session lengths may have opted to go down a different route. Arguably more popular than session length limits are reality checks. These have proven big hits with players who just want to "keep tabs" on the amount of time and money they are wagering, without perhaps doing anything about it. Reality checks are a much less efficient way of sticking to responsible gambling practices (as you can choose to ignore them), but they are popular all the same.
With a reality check, players will be informed (usually via a pop-up box) when a certain amount of time has passed. These updates may also tell you how much you wagered, won and lost, or other statistics. The basic idea is that the casinos trust their players to make educated and informed decisions. If you don't like the information you see in the box, you can choose to stop playing. The danger with these options (as welcome as they are), is that problem gamblers will often swipe them away and ignore them.
Those casinos which do not offer reality checks will still provide players with some form of history options. There is generally a log of all the deposits and wagers made, as well as the result of spins and hands viewable in your account. This information provides much the same service, although because players must go hunting for it, it is hardly as efficient as traditional reality checks.
In this responsible gaming guide, we have now looked at some of the tools that trustworthy and caring online casinos have put into place to promote responsible gambling. We have also taken a brief overview of some of the things that countries and gambling authorities do to prevent irresponsible gambling. Now it is time to see what you can do yourself to be a responsible online casino player.
How to Gamble Safely
Using the tools provided by online casinos, as well as common sense and the array of tips and tricks listed in this gambling guide, you should be able to engage in safe, responsible gambling online. What follows are a series of practices which the most responsible gamblers on the internet will want to stick to.
Before we dive into those practices, it is worth mentioning that none of the practices below will guarantee that you won't become addicted to gambling online. However, when used correctly, they should help to diminish that prospect. With that said, let's begin.
Never Gamble to Make Money
You will most likely have heard of professional gamblers. These are players who have amassed considerable wealth by betting, both online and offline. However, for most of us, this is not going to be the case. Instead, we should think of gambling as a fun pastime and nothing more. With a bit of lady luck, you might come away with a decent win and return on your stakes, but that shouldn't be taken for granted.
One of the best ways that casino players can ensure that they gamble responsibility is to stop seeing gambling as a money-making enterprise. It isn't. Casinos are designed to make money from you. While random number generators (RNG) give you a fair chance of winning, the odds are still stacked against you. There are ways to you can cut house edges, and a spot of luck might make it seem like you're onto a winning strategy, but don't mistake that for reality. The reality is that you're going to lose money, perhaps even more than you win. Gambling is about having fun and "possibly" winning. If the latter does occur for you, quit while you're ahead. Getting this squarely in your mind is the first step to becoming a responsible gambler.
All Forms of Entertainment Cost Money
This second point is more of an extension of the first. Once you have wrapped your head around the fact that you aren't gambling for money, you can appreciate what gambling is. Gambling is a form of entertainment, and like all entertainment, it costs money. If you want to go to the cinema, watch a football match or go to a theme park, it costs money. What you're essentially paying for with this form of entertainment is the excitement and adrenaline factor of possibly winning money.
This might sound like a rather harsh lesson, and we certainly wouldn't want to dissuade you from gambling or tell you that you're not going to win money. You most certainly can win cash, but only if luck and chance are on your side. Try to think of lost wagers as the cost of your chosen form of entertainment, rather than losses trying to win money. Players will become a lot more relaxed about it, and this should help you become a more responsible gambler.
Only Gamble When You Can Afford to Lose
This practice should go without saying. Most gamblers will be familiar with this concept, and yet you'd be surprised how many people gamble online without paying attention to it. Not doing so is risky, dangerous and potentially life-changing. Problem gamblers are well known to lie to others and themselves. They will often borrow money to feed their habit, all in the often-hopeless attempt of recouping their losses.
Casino games have been designed to give you a fair shot at winning, but they are still tilted towards the casino hosting them. Problem players often double down and raise their bets in a desperate attempt to claw back losses as soon as possible. Rather than recouping their losses, they are likely to end up deeper in financial mire.
Even with a clear head and focused mind, recouping losses is hard. It becomes even more so if your head is all over the shop worried about how you're going to pay bills. If you're only playing with money you have specifically set aside, you're far more likely to be "okay" with losing it. That doesn't make it less frustrating when you do lose, but at least it won't eat you up and swallow you whole.
Cutting back on what you would typically spend on bills, food and other creature comforts to fund your gambling habit, are all signs of a problem gambler. The best way to avoid them is to pay all your bills and budget for the usual expenses first. Only by setting aside money which is for leisure and entertainment can you afford to gamble responsibly. Most importantly, make sure that the money you choose to gamble with is yours. Don't gamble with credit, loans or someone else's money. Should you find that you already fit the criteria in those regards, seek urgent help from problem gambling organisations and immediately self-exclude yourself from your account.
Use the Casino's Tools to Limit Your Gambling
As mentioned throughout the earlier parts of this article, there are lots of tools out there for you to use to limit your gambling activity. Setting deposit, wagering and loss limits are great ways to ensure that you're well-aware of what you're spending. Not paying attention to what you have spent and ultimately lost can be devastating when you finally add it all up. By using limiter tools like those mentioned above, you'll always have a good idea where you're at in terms of deposits, wagers and losses.
Setting session length limits is also ideal. If you've got money to burn, you may just fancy playing for hours on end. Few of us can afford that luxury, though. Many of us are just after a quick session after work or on our lunch break. If that sounds like you, setting a 30-minute or 1-hour time limit will make sure that you don't sit at the computer for hours on hand. After all, it is the latter which is most likely to see you redeposit.
Take a Break, and Do So Properly
If you have decided that enough is enough, it is advised to take a break. Many players tend to be a little bit on the weak side on this front, though. Having the weekend off only works if you can't sign in to your account. It is advised to use self-exclusion tools to ensure that once you're out, you stay out. Even if you only wish to self-exclude for a week while you put time on a major work project, the benefits of self-excluding can be dramatic.
Some players refuse to use self-exclusion programs, as they believe that it makes it look to the casino that they are weak or are problem gamblers. There is not any need to think like this at all, though. Self-exclusion tools haven't been designed solely for problem gamblers. They have been developed in a bid to prevent problem gaming from occurring in the first place. You might find that self-excluding yourself on a frequent basis makes you more comfortable and used to the idea.
Don't Drink and Spin
Alcohol is wonderful for altering your state of mind, and drugs do an even better job of it. We're certainly not advising you to do drugs and drink alcohol, but we're not here to scold you if you enjoy either of those pastimes, either. What we would say is never mix drink or drugs with gambling. Both have been proven to cloud your judgement, and lead people to make decisions hastily that they would ordinarily take more time to think about.
How many times have you gone out on the town with a budget in mind? How many of those occasions have you nipped back to the ATM to withdraw more cash, or realised that you'd spent far more than you thought? This is a common occurrence when alcohol is involved, and you can apply the same logic to gambling under the influence. What may seem like a cracking idea at the time could be something you regret in the morning.
Not only are you more likely to deposit frequently when drunk, but you're also less likely to think logically about your bets. You might decide to throw in all your chips on a single hand at the blackjack table. You might become abusive or aggressive to live dealers when losing. At the very least, you're far more likely to spend more. Gambling with a clear mind is of absolute importance.
Other Occasions to Avoid Gambling
Drink and drugs are not very good companions for a spot of gambling. There are a couple of other occasions when you may wish to think twice about having a punt on the tables or a spin on the slots, too. Depressed players, those who suffer from anxiety or those who are upset or mad about something aren't going to be in a reasonable frame of mind for gambling. Players suffering from these symptoms are far more likely to take losses seriously. Any player in a bad mood or who is upset is likely to find that losing money becomes just another problem in a long list of things they are unhappy about. While a big win could very well perk somebody up, the chances are that trying to get there won't fill the player with excitement, just anxiety. If gambling isn't fun, you should not play.
Gambling Hours and Social Events
One of the signs of a problem gambler is being unsocial. If you're not a social creature by nature, then this can be difficult to spot. However, if you're the type of casino player who used to go out with friends all the time, and now shun them as you wish to be left alone to gamble, that is a tell-tale sign.
Irresponsible gamblers tend to shirk off responsibilities, work, family and friends. There are other tell-tale signs of problem gamblers, too.
The Warning Signs of Problem Gambling
There are checklists which are available online, which can help you identify problem gambling. That might mean that you want to do a self-reflection test to see if you have a gambling addiction. Alternatively, you may only be interested in finding out the warning signs because you're concerned for a friend. Either way, it pays to know what the tell-tale signs of a problem gambler are.
Problem gamblers aren't likely to come to others for advice. They often keep to themselves. When talking about gambling, they will often talk about it a lot. On many occasions, they will brag about wins they have had (which may or may not have occurred). They may not be very social at all, preferring to keep their gambling habit a secret. In this case, they are often aware that they have a problem, but cannot admit it and need help.
The borrowing of money, delays in the payment of bills, and sudden loss of savings around the home could also warrant a closer investigation. Problem gamblers will often keep their habit secret, so being secretive about what they're doing on their computer or smartphone could be another sign.
Other aspects to keep an eye out for include social symptoms and psychological changes in a gambler's personality. They may suddenly see relationships with people deteriorate and become irritable far easier than normal. Losing touch with loved ones, and frequent lying may also be symptoms. Being on edge, unable to sleep, and increasing careless are also signs of problem gambling. Depression and anxiety tend to kick in when the losses start adding up and having an effect on a player's lifestyles and finances. At the most extreme end of cases, suicidal thoughts or comments are big warning signs.
If you suspect yourself of being a problem gambler or think you know somebody who isn't necessarily a responsible gambler, there are organisations out there who are eager to help.
Pick Your Casino Carefully
As touched upon earlier, there are several different ways you can ensure that you're playing at a responsible casino. There are casinos out there whose sole purpose is to scam you and steal from you. They carry unfair games and have no intention of ever paying you your winnings. In short, they couldn't care less about what happens to you. These are the casinos we must try to avoid at all costs.
Finding a reliable, safe, secure and fair casino is of paramount importance. At the same time, players will also want to play at an online casino which takes its duties to responsible gaming seriously.
The safest casinos will be those which are licensed and legal in your country. Responsible casinos will feature a few tools to assist players and to help prevent them from turning into problem gamblers. These can include any of the options we've frequently mentioned in this piece. A fair casino will often feature games from a variety of providers, and those games will feature RNGs (random number generators). Casinos may even go as far as publishing the pay rates of their games.
These respectable and trustworthy casinos will also have promotions and bonuses which are generous but not restrictive. They won't hamper players and tie them down with excessive wagering requirements. It sounds as though we're asking for a lot, but that isn't the case. There are plenty of leading casinos out there which fit the bill in all these criteria.
The Final Word – Play Responsibly
Over this lengthy starters guide to responsible casino gambling, we've covered many topics. Hopefully, you will have an idea about the types of services which are available to you. You will know what makes a safe casino and what doesn't. You will also feel confident that if you incorporate all the practices listed above, you can gamble safely in the knowledge that the chances of you developing a gambling addiction are minimal.
Remember, gambling is supposed to be fun and exciting. It is a source of entertainment, not a money-making machine. Be vigilant about what you spend, only wager what you can afford to and keep tabs on what you're wagering. Set limits only where limits are required and only play at licensed casinos which take their duties to responsible gambling seriously. If you can string all of that together, you're in great shape to enjoy gambling online to the maximum.