If you were to think of one game (more than any other) that Asian players like to have a crack at, it may just be Sic Bo. Developed in China and arguably older than roulette, this famous game – which translates as "dice of treasure" – is now played in live casinos online using three sets of dice, as is also known as Dai Siu, Tai Sai and Hi-Lo. It may not be commonly offered as a live casino game in the West, but it is near enough commonplace in all major Asian live casino websites.
Recommended Live Sic Bo Casinos
Quick Links:
---
Live Sic Bo FAQ
Key Features of Live Sic Bo Online
Sic Bo doesn't really come with variants. There is generally only one version of the game you can play, although each software developer has their own take on it. No matter which version you play, though, a few things are common to all live dealer Sic Bo games.
Keyboard Shortcuts: With so many different bets on the table, a great deal of live Sic Bo games come with a plethora of keyboard shortcuts to help you rapidly place your favourite bets. This can speed up betting when you only have a finite period to get your bets in, in-between games.
Asian Live Dealers: The beauty of playing this Asian classic at live casino sites is that genuine Asian live dealers often host it. This adds a cultural touch of home for any player. Moreover, they can usually speak a variety of Asian languages as well as English.
A Surplus of Betting Options: As mentioned a moment ago, there is a surplus of betting options open to you when playing live Sic Bo online. We'll come to those many bets in more detail a few moments, though.
Most live dealer games which feature Sic Bo tend to be streamed from Asia. Manila and Macao can often play host to studios which offer live dealer Sic Bo. Although it is less common, you may also be able to find games streamed from Eastern Europe and the United Kingdom, too.
Live Sic Bo Games in More Detail
Playing live Sic Bo is like betting on roulette. Instead of a roulette wheel, though, you will be betting on the outcome of three dice. If your bet matches whatever appears on the dice, then you will win. If not, you lose. There are so many different betting options to wager on that it is possible for players to walk away with some rather impressive prizes if fortune and fate smile down on them.
On-Table Options When Playing Live Sic Bo
While the dice bets do occupy a large section of the betting board and thus the screen, there are other options which can be viewed on-screen which add an extra dimension to live dealer Sic Bo. Some of these include:
Adjustable Video Quality: Players playing on poorer internet connections will often have the option to adjust the quality of the video stream.
Multiple Cameras: As well as being able to adjust the quality of their stream, players can also adjust the cameras they are watching the game with, in a handful of live dealer Sic Bo games. Keep in mind that this option is not available in every software provider's Sic Bo game.
Histories and Statistics: Players will have access to a wide range of histories and statistics screens when playing live Sic Bo. Any player who believes in seeing patterns in previous hands can use these screens and data to potentially "predict" future outcomes in the game.
Supported Live Casino Software by Site
Betmaster: BetGames, Evolution, Ezugi, Pragmatic Play, SA Gaming, Skywind, VIVO, XPro Gaming
Bitcasino: 7Mojos, Asia Gaming, BetGames, Bombay Live, Evolution, Ezugi, Pragmatic Play
BitStarz: Authentic, Evolution
Bons: Asia Gaming, Bombay Live, EGT, Enjoy Gaming, Evolution, Games Global, Playtech, Pragmatic Play, Swintt, Tom Horn
CoinSlotty: Absolute Live Gaming, Atmosfera, Authentic, Bombay Live, Evolution, Ezugi, Live Solutions, Playtech, Pragmatic Play, Swintt, TVbet
Happy Luke: Asia Gaming, Bombay Live, Evolution, Ezugi, GamePlay Live, N2 Live, Pragmatic Play, SA Gaming, Skywind, SuperSpade, VIVO
Kosmonaut: Evolution, Ezugi, Microgaming
Live Casino House: Asia Gaming, Bombay Live, Evolution, Ezugi, GamePlay Live, N2 Live, Pragmatic Play, SA Gaming, Skywind, SuperSpade, VIVO
LuckyNiki: Evolution, Playtech, Pragmatic Play, SA Gaming, SuperSpade, VIVO
Stake: Evolution, Pragmatic Play
VideoSlots: Evolution, Ezugi, Playtech, Pragmatic Play, Real Dealer
Sic Bo Betting Options
Live Sic Bo has plenty of betting options for you to take advantage of. For starters, there is an ample number of different bets. Even then, the wagering range in Sic Bo tends to be quite broad, to accommodate both low-rolling and high-rolling players alike. Given that, it is time to look at some of the betting options you have open to you when playing live dealer Sic Bo at Asian casino sites.
Small/Big Bets: Small bets consist of betting that the total on the dice will be between 4 and 10 points. Big bets consist of betting that the total value of the dice will be between 11 and 17 points. Note that players will lose their bets if three instances of the same number appear on the three dice.
Number Bets: A bet that one number (1-6) will appear on at least one dice. If the number appears on one, two or three dice, players can win 1:1, 2:1 and 3:1, respectively.
Pair Bets: There are 15 possible 2-dice combinations in live Sic Bo. These are listed on the betting board. Players need to land the numbers on at least two of the dice to win.
Double Bets: Players bet on a specific pair appearing on the three dice. If this occurs, a 10:1 pay-out is acquired.
Triple Bets: Players bet on a specific triple appearing on the three dice. If this occurs, a massive 180:1 payout occurs.
Any Triple Bets: Players can win 30:1 if any triple (1-6) appears on the three dice.
Total Bets: A straight-up bet from 4 to 17. You cannot bet on 3 or 18. Players can bag wins of 6:1 if the total bet of the three dice equals 9, 10, 11 or 12. If the total of three dice equals 8 or 13, the payout rises to 8:1. It will increase to 12:1 and 17:1 for 7 or 14 and 6 or 15 points. Players who land 5 or 16 in total over the three dice will win 30:1. The top prize for a total bet is 60:1, paid out if a player lands a total of 4 or 17 on all three dice.
The RTP in Live Sic Bo Online
Generally speaking, most live Sic Bo games have an RTP (return to player) rate around 97%. It varies slightly depending on which developer's game you are playing. However, the house edge when looking at Small or Big bets is around about the 2.78% mark. That is reasonably decent and puts the game on par with European and French roulette, which live Sic Bo is often compared to.
Live Casino Betting Limits
| Game | Min. Bet | Max. Bet | Bombay Live Max. Bet |
| --- | --- | --- | --- |
| Andar Bahar | $0.50 | $25,000 | $5,000 |
| Bac Bo | $1 | $50,000 | N/A |
| Baccarat | $0.10 | $100,000 | $100,000 |
| Baccarat Control Squeeze | $1 | $90,000 | N/A |
| Blackjack | $1 | $25,000 | $90,000 |
| Caribbean Stud Poker | $1 | $4,000 | N/A |
| Casino Hold'em | $0.50 | $5,000 | N/A |
| Craps | $0.50 | $25,000 | N/A |
| Dragon Tiger | $1 | $25,000 | $50,000 |
| Fan Tan | $0.20 | $25,000 | N/A |
| Roulette | $0.10 | $50,000 | $50,000 |
| Sic Bo | $0.20 | $25,000 | N/A |
| Teen Patti | $0.50 | $10,000 | $5,000 |
| Texas Hold'em | $0.50 | $2,500 | N/A |
| Triple Card Poker | $1 | $25,000 | N/A |
Play Sic Bo Online – How to Credit Your Casino Account

Should you decide to sit down and play live dealer Sic Bo, we recommend that you make your deposit via Neosurf, Skrill, MiFinity, DuitNow, TrueMoney, iWallet, credit/debit cards such as VISA or MasterCard or cryptocurrencies. With the exception of crypto, the payment options available to you depend on where you live. In most cases, players will be able to deposit into their accounts using US dollars, potentially alongside more local Asian currencies. Please also note that there are no free Sic Bo live dealer games (e.g. a demo play mode).
Play Live Dealer Sic Bo with Your Local Currency
As indicated, it is possible to deposit in your local currency at many gambling sites with a focus on Asia. One such example is Betmaster (casino and sports betting), which not only supports USD, but also CNY, IDR, INR, JPY, KRW, PHP, THB and VND, among others. AUD and NZD are also accepted by most online gambling sites. Please note, however, that players based in Australia cannot open an account with Betmaster.
If you open an account with a site that does not support your currency, then your likely preferred alternative is USD. Of course, since your deposit will be converted to USD, you need to be aware of the exchange rate. The same applies to your winnings when you play live Sic Bo online. If you don't want to be dependent on the casino supporting your currency or a specific payment method, using cryptocurrencies is another option (see more details below).
Cryptocurrencies Like Bitcoin in the Live Casino
Betting with cryptocurrencies such as Bitcoin or USD Tether is a welcome alternative. It's becoming commonplace for a growing number of online casino players in Asia, partly because most sites accept both crypto and real money and you can switch between the two. You can find our full crypto casino guide here.
For one thing, using crypto is fast, flexible and more anonymous. Another reason is the ease of withdrawals, as you won't have any problems with your bank, as many of them don't accept transactions related to gambling. In the same breath, we always recommend having at least one account with an e-wallet payment provider as a backup if you prefer to bet with real money (FIAT currency). E-wallet providers also require their customers to complete a KYC (Know Your Customer) check, but we dare say this is more straightforward than dealing with your bank. Of course, exceptions may apply. 🙂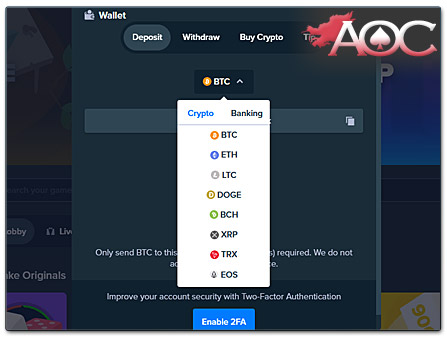 How to Fund Your Casino Account with Crypto
There are two ways to fund your Sic Bo live casino account with your preferred coin or token (see the list of cryptocurrencies supported by each casino).
1) We recommend buying Bitcoin, Ethereum, USDT or other coins from a trusted crypto exchange of your choice. If you own a cold wallet (also called a hard wallet) such as Ledger or Trezor, you can even buy coins within the wallet. However, it is unlikely that newcomers will already have a cold wallet. Once you have bought some crypto either on the exchange or moved it to your self-custody hot or cold wallet, you are ready to go.
2) The second method is to buy cryptocurrencies directly at the online gambling site. As this option is usually handled through a third-party payment provider, you will likely have to go through another KYC (identity verification) process – something you may have already done on the crypto exchange. Also, in our experience, the rates for buying cryptocurrencies through these third-party services are usually less optimal. Therefore, we prefer the "traditional" way of buying on a cryptocurrency exchange.
Now You Are Ready to Deposit
At the Sic Bo live casino (or rather crypto casino) you will find a receiving address (also called a deposit address) for the respective cryptocurrency. You use this address to send your coins from your exchange account or self-custody wallet. It's as simple as that and works the other way round once you withdraw your Sic Bo winnings.
Supported Cryptocurrencies Per Casino
Bitcasino: ADA, BNB, BTC, BUSD, DOGE, ETH, LTC, TON, TRX, USDT, XRP
BitStarz: BCH, BTC, DOGE, ETH, LTC, USDT
CoinSlotty: BCH, BTC, DOGE, ETH, LTC, USDT, XRP
Kosmonaut: BCH, BTC, DOGE, ETH, LTC, TRX, USDT
Stake: APE, BCH, BNB, BTC, BUSD, CRO, DAI, DOGE, EOS, ETH, LINK, LTC, MATIC, UNI, USDC, USDT, SAND, SHIB, TRX, XRP
Live Sic Bo Bonuses

Most Asian online casino sites can rather efficiently deliver a welcome bonus to you. However, very few of them can serve up a specific live Sic Bo bonus. Considering that, we would recommend that players take full advantage of any live casino welcome bonus they come across.
In most cases, you will be able to use the welcome bonus to play live Sic Bo anyway. Keep in mind that it may take longer to fulfil wagering requirements when playing live Sic Bo, as opposed to playing games with higher house edges.
The History of Sic Bo: A Chinese Game Which Is Older Than Roulette
Sic Bo is arguably (well, probably) older than roulette, a game which it is very similar to. The game was developed in China and was initially played with carved animal bones. Played for hundreds of years, it eventually made its way to the United States with Chinese immigrants. Of course, the US casinos added their own tweaks, giving the game an electronic betting board and utilising dice instead of bones.
Making the leap to the online casino world wasn't such a big step for Sic Bo, and from there on out, it rapidly became a live casino game, too. Although it does have a growing audience in the West, live dealer Sic Bo is still more popular with players at Asian live casino sites.