Just like baccarat, live roulette is another widely played game across Asian live casinos. As with the other live dealer titles, there are enough variants of the game out there to suit everybody's needs, including European, American and French roulette, to name just a few.
Recommended Live Roulette Casinos









+8 more (7 cryptos)










+10 more (6 cryptos)










+8 more (10 cryptos)


















+10 more cryptos
Key Features of Live Roulette Online
What are some of the variants that Asian players might choose to play? The most popular live roulette variants include:
European Roulette: Generally considered the favourite, this roulette game has just one zero pocket. With players almost certain to lose if the ball lands in the zero pocket (unless they have bet on it), the 2.70% house edge makes this game favourable over American roulette.
American Roulette: American roulette contains two zero pockets, the standard zero (0) and a double zero (00). Unless they have bet on the zero, players will again lose if the ball lands in this pocket and the fact that there are two of them raises the house edge to 5.26%.
French Roulette: Virtually identical to European in almost every way, French roulette also has a single zero pocket and a house edge of 2.70%. The bets are given French names, and Racetrack bets also come into play in this variant, which is closely linked to the original roulette game.
Great Choice of Roulette Variants
A few other live roulette variants exist, too. These are much more specialised in terms of what they offer and require a bit of reading up before you feel comfortable enough to play them. They include Double Ball Roulette, which naturally features two balls; Immersive Roulette, which allows you to get closer camera action, and VIP Roulette, which is played for high stakes. Speed Roulette rushes players into making quick bets as the time between games is cut short, and Progressive Roulette often features an extra spot on the wheel, which can deliver a jackpot cash prize if a side-bet is placed and the pocket is landed.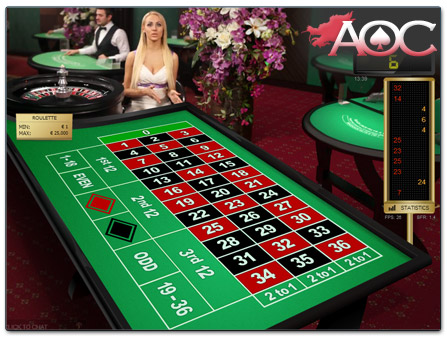 It is worth noting that live roulette games are also streamed out of studios based in Asia, giving them an added sense of realism, which is much closer to home. These games come complete with more local languages and Asian dealers to boot. However, this service is not being provided by every live games provider out there, neither is it automatically available in every online casino in Asia.
Live Roulette Games in More Detail
Each numbered pocket (save for zero) is coloured red or black, with the basic objective being to wager on a number, or series of numbers and hope that the ball (when dropped into the spinning roulette wheel) lands in a pocket favourable to your bet. If the ball lands in a pocket which is not favourable to your bet, you lose.
While it is fine to have an overview of roulette, it is worthwhile taking a closer look at the three main variants you can play in Asian online casinos.
European and American Roulette
Both American and European roulette feature pockets numbered from 1-36. Whereas European roulette features a single zero pocket, American roulette has two. There is no maximum number of people who can place live dealer roulette bets on live American and European roulette games at any one time. Live roulette games consist of a live stream, whereby a human croupier (the roulette equivalent of a dealer) drops the ball into a spinning roulette wheel and handles the game. A digital roulette betting board is displayed on-screen covering the relevant pockets on the wheel, and it is that digital board that you use to place your bets.
Because the house edge is lower, European roulette is favoured by most Asian roulette players over American roulette.
French Roulette
Again, French roulette is like European roulette. The way that the live version of the game is played is also the same, although there are a few subtle changes in gameplay and the rules. These include:
Pocket Colours: All the pockets in French roulette are red.
La Partage Rule: This is a rule which can see players who place even money bets bag half of their money back if the ball lands in the zero pocket. In this instance, the house edge in live French roulette drops to 1.35%.
French Language: French roulette uses alternative names for the types of bets you can make. Although it isn't difficult to work out what is what, it helps if you take a moment or two to familiarise yourself with the original French names of those bets.
En Prison Rule: Like La Partage, this is a minor rule change and one which can be found on some (though not all) French roulette games. If an even money bet is placed and the ball lands in the zero pocket, players will lose half of their bet, with the other half held and used on the next bet a player makes.
Racetrack: This used to be unique to French roulette but is starting to make an appearance in other roulette games. It involves a different selection of bets, and we'll go into that in detail in just a few moments when we look at roulette bets in general.
Mobile Gameplay: Note that you can play live roulette and the other games on your mobile and tablet, too. Just as you would visit your preferred online casino in the web browser, log into your account and launch a title, the same applies to the games in the live casino lobby. A casino app is not required either, though, some sites do offer them optionally.
---
Recommendation: Live Casino House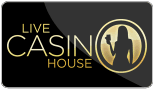 If live dealer casino games are your forte, you can't go wrong with Live Casino House. Playable in English, Chinese, Japanese, Thai or Vietnamese, their collection of live games are streamed from various top casinos and studios across Asia, with the likes of Evolution Gaming and Ezugi providing the games, amongst others. Also keep an eye out for their selection of Asia Gaming (AG) speciality casino games (see video below), if you want a taste of home when playing online at this site. Last but not least they also feature a dedicated section for slot games.
---
On-Table Options When Playing Live Roulette
Each live roulette variant will have its own range of on-table options for you to tinker with. These can include looking at hot and cold numbers (numbers which have appeared frequently or not appeared for a while), your betting histories, and different camera angles. The latter is worth a closer look.
Adjustable Cameras
Many live roulette games will allow you to adjust the camera angles, with several to choose from. However, in the Immersive Roulette game variant by Evolution Gaming (for instance) you can switch to a camera angle which is directly inside the roulette wheel. There are several reasons why players may wish to adjust the camera angles, not least because some players prefer one camera over another. Either way, it is a handy on-table option to have if you want to get straight into the heart of the action.
If you are new to live casino games take a look at the video below to get a first glimpse of the action awaiting you online.
Roulette Bets
Roulette features a plethora of different types of bets. It helps to familiarise yourself with these bets before you decide to play. Live roulette offers inside bets and outside bets. Outside bets are more likely to come off but pay very little. Inside bets stand less chance of happening but pay out more significant sums of cash. We've detailed them below.
Outside Bets
Even, Odd, Red or Black: These bets involve betting on either all even or odd numbers, or all red or black numbers. If the ball lands on any even or odd numbers or red or black colour you have bet on, you will pocket winnings of 1:1.
High/Low: The numbers on a roulette wheel can be broken down into two groups, low numbers (1-18) and high numbers (19-36). Players successfully landing a win on a high or low number can win 1:1.
Columns: A roulette betting table consists of 3 columns of 12 numbers. Betting on a column of numbers successfully will see you win 2:1.
Dozens: Dozen bets are like column bets, except that these dozens are numbered 1-12, 13-24, and 25-36. Again, players will win at a rate of 2:1 with a successful dozen bet.
Inside Bets
Six-Line: Six-Line bets are a bet on 6 numbers. This involves a bet on two rows of numbers from the betting board, with the chip is placed on the intersection between the two columns of numbers. A successful bet pays out at 5:1.
Square: A square bet is wagered on 4 adjacent numbers, with the chip placed at the intersection between those four numbers. Successful square bets pay out at 8:1.
Street: A street bet is placed on a row of 3 numbers, with the chip placed at the start of the row. Winning with a street bet pays 11:1.
Split: Split bets involve placing a bet on 2 adjacent numbers, with the bet placed in-between them. Split bets are the second-best paying bets in the game, worth 17:1 when they come off.
Straight: Straight (also known as straight up) bets offer 35:1 payouts. These are the best-paying bets in the game and involve betting on a single number on the betting board.
Racetrack Bets
The third type of bets you may come across are Racetrack bets, which as we've said, are more common to live French roulette games. Racetrack bets allow players to wager on specific parts of the roulette wheel, according to "series" displayed on the racetrack. The roulette wheel is divided into Series 0/2/3 (Voisins du Zero), Series 5/8 (Tiers du Cylindre) and Orphelins bets, each with their own possible bets for you to wager on.
Similarly, there are Neighbour bets with the Racetrack. This is a bet on a single number, but that is split between 5 numbers: the number you have bet on, plus the two neighbouring numbers on either side of it. The payouts for these vary, and the bets are challenging to get to grips with. Players should read up on Racetrack bets in-depth before attempting to play with them.
The RTP in Live Roulette
Roulette RTP rates vary depending on the variant you are playing, but truth be told aren't really that important, since roulette is a game of pure luck. Instead, house edge becomes more important. Live American roulette is the worst in terms of house edge since the two zero pockets ramp it up to 5.26%. European roulette is more favourable at just 2.70%. If you want to get the house edge down, though, play French roulette with the La Partage rule, as you can get the house edge down to 1.35%.
Play Roulette Online – How to Credit Your Online Casino Account

If you fancy giving live roulette a run for your money, there are ample Asian online casinos which offer those games, many of which include several variants, too. After registering at a casino, you will need to deposit to fund your session. Popular deposit methods for players at Asian live casinos include ecoPayz, Venus Point, iWallet, and conventional card payments to name but a few.
Since many online casinos available to players in Asia do not support local currencies, the USD is a common alternative. There are exceptions, though, for instance, BitStarz Casino which is available in English, Chinese and Japanese that also enables you to deposit and withdraw using Chinese Yuan and Japanese Yen in addition to various cryptocurrencies. When your casino account uses the USD as the base currency then the money you deposit using a different currency, is, of course, exchanged when it is credited to your bankroll.
Note that live casino games are not available in fun mode. When you are logged into your casino account, though, you may take a peek at the action unfolding at the tables. However, gameplay is only possible in real money mode.
Live Roulette Bonuses

Live roulette bonuses are not easy to come by, but they do exist. Any Asian online casino will likely offer a standard welcome bonus, but you may find that those bonuses cannot be used on live roulette games – the terms and conditions vary from site to site.
However, some Asian live casinos will have a separate live casino welcome bonus which you can almost certainly use on live roulette games.
Other Roulette Bonus Offers
Some Asian live casinos and even standard online casinos will also offer a small cashback bonus for live roulette games. They can provide you with a cashback bonus worth anything from 10% – 25% of your losses, although the figures vary from site to site.
If bonuses are important to you, make sure you check out the full range of live roulette bonuses which are available to you before deciding to play at one specific Asian online casino over another.
The History of Roulette: A Game Created Purely by Chance?
Unlike other gambling games, the origins of roulette are much clearer. Ignoring Chinese, Roman and Ancient Greek sources, which claim to have invented the game first, the modern roulette game was invented in France by Blaise Pascal in the Eighteenth Century and has remained relatively unchanged since.
Originally, Pascal had created the roulette wheel as a way of studying probability. He had no idea at the time that the probability machine he was creating would go on to become one of the world's most popular gambling games.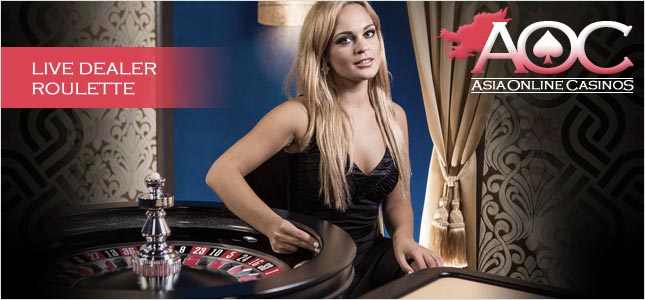 The game (with a zero and double zero added) was released in the casinos of Monaco and was an instant hit with the aristocracy. Francois and Louis Blanc saw further potential in the wheel and removed the double zero, thus creating European/French roulette.
The Americans would later reinstate the double zero as a way of raising the house edge, while European roulette would drop the French names and some bets, thus giving us the three main roulette variants that we see in online casinos. It is those three games which have evolved into tens of different roulette variants today, each with their own tweaks and adjustments on gameplay.