Find out how to credit your casino account, so you can play all your favourite games with real money and withdraw your winnings.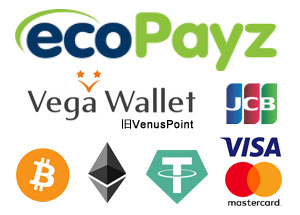 If you would like to play with real money and be able to withdraw your winnings, you will encounter several options to handle your payment transactions at an online casino – overview of the best online casinos in Asia. For example, credit cards by VISA or MasterCard can be used as well as popular e-wallets such as ecoPayz, iWallet or Venus Point (further details below). Of course, setting up a casino account is free and can be accomplished within a few moments. Alternatively, you can sample the games for free too without having to sign up, since all titles are directly available on the website.
Which currency to use with your online casino account
When depositing to your account, you need to consider that practically most available online casinos in Asia do not offer the local currency as a base currency (such as Yen in Japan – you will find the available currencies pointed out in our casino reviews). However, this poses no issue, since you can play the games using dollars instead. In this sense, it is somewhat similar to how online poker rooms operate.
Therefore, after you have credited your online casino account using your local currency, your balance will automatically be exchanged into US dollars and displayed in dollars. No matter which payment method you are using, the transaction is usually carried out right away and will be instantly visible in your casino bankroll. Please note though, that with international transactions it might take a couple of minutes for your balance to update.
Note: If you have a preferred payment method, make sure that the online casino of your choice accepts deposits via that particular method. Depending on where you reside, not every payment option listed further below is automatically available. Therefore, having a backup-option up your sleeve is always a good idea.
Moving on, we describe the most important facts about the main depositing options for players in Asia. Details regarding the minimum and maximum limits can be found by checking the actual casino review under the "Banking Tab".
Methods to credit your online casino account
The following entries are ordered alphabetically.
Bitcoin / Other Crypto-Currencies
Bitcoin casinos: BitStarz (welcomes players from many countries/regions across Asia), InterCasino, Vera & John (the latter two accept players from Japan and New Zealand only).
Withdrawals: Yes
Account credited instantly: Yes
Fees charged by the casino: No
Bitcoin as a payment option is not your usual payment method but can be encountered in more and more online casinos available in Asia. Gambling sites such as BitStarz enable you to credit your account as well as withdraw your winnings using this totally anonymous crypto-currency. In addition, many other crypto-currencies can be used too, for example, Ethereum and Litecoin. Any payments undertaken using Bitcoin or any of the other crypto-currencies does not involve a fee.
Depositing using a credit card
Credit card casinos: Every online casino accepts credit/debit card deposits and withdrawals via VISA, MasterCard etc. (Japan: Mostly deposit only, and mainly via VISA and JCB, if available).
Withdrawals: Yes, except for Japan.
Account credited instantly: Yes
Fees charged by the casino: Usually not, but it depends on the casino (sometimes up to 2.5%).
A straightforward and instant way of crediting your account is via a credit card. There is virtually no difference between a conventional purchase on the internet and depositing money in an online casino using this method.
All casino portals, including the ones that accept player registrations in Asia, accept payments via credit card from companies like VISA, MasterCard and JCB in Japan – for example, Royal Panda Casino.
How to deposit
Once you are logged into your casino account, you need to look for the cashier's area, which is usually marked by an easily visible button that says "Deposit" or something similar. The following menu that appears features all the available depositing methods for players in Asia. To transfer money using a credit card, you just choose the corresponding method as well as entering the amount you would like to start playing with.
Note: If you would like to take up the casino welcome bonus, make sure to opt in for the offer, before making the deposit. Mind though, that some casinos credit the bonus automatically. Further details on this can be found here.
You will then be required to enter your card number as well as the expiration date on the payment form. Lastly, you will enter the verification number of your credit card, which can be found on the reverse side of your card. As mentioned before, deposits using a credit card are instant but may take a few minutes to update on your casino balance.
Please take note, though, that many banks do not accept payments by online casinos when it comes to withdrawals. Therefore most casinos available in Asia do not offer withdrawals where credit cards are used. In this case, your alternative method of withdrawing your winnings would be via bank transfer or another non-card method.
Depositing via online payment services (e-wallets)
So-called e-wallets enable players to credit their casino account instantly. Additionally, they are the fastest option available when it comes to withdrawals. Once the casino has processed your withdrawal request, the money is immediately credited to your e-wallet account, such as ecoPayz, iWallet or Venus Point. To open an account with any of the mentioned online payment services is free. However, crediting the actual e-wallet account itself does in some cases incur a fee.
Note: As with most online casinos, withdrawals must be made via the same payment method that was used for the initial deposit.
ecoPayz
ecoPayz casinos: The majority of online casinos featured here accept ecoPayz as a payment method.
Withdrawals: Yes
Account credited instantly: Yes
Fees charged by the casino: No
Support in Chinese and Japanese: Yes
The online payment service ecoPayz was founded in 2000 and is based in the United Kingdom. To use this service you are required to set up an account at ecoPayz, which is free. In addition, the e-wallet offers support in Chinese and Japanese as well. Depositing at an online casino using this payment method is, of course, free and instant.
You can also apply for a prepaid card, which you can use like a normal credit card (no credit checks). This so-called ecoVirtualcard is a one-use payment card that works directly with your account at ecoPayz. That means you can securely pay for goods online, without displaying any of your personal or financial information, as it is designed for a one-off payment.
EntroPay
EntroPay casinos: 32Red
Withdrawals: Yes
Account credited instantly: Yes
Fees charged by the casino: No
Support in Chinese and Japanese: Both no
Another option to deposit money in an online casino is EntroPay. The service was established in 2003 and is the first provider offering prepaid virtual cards in Europe. To create an account for a card doesn't take any longer than 60 seconds. And it's free, of course. However, the accounts are only available in USD, EUR and GBP.
You can use the virtual card anywhere where VISA is accepted. It allows you to deposit money in the same way that you would use a conventional credit card. Please note though, that topping up your EntroPay card with a credit or debit card incurs a fee. Same applies when transferring money back from the e-wallet account to your bank account.
iDebit
iDebit casinos: iDebit is accepted in most casinos in Asia that also cater to players in Canada such as BitStarz, LeoVegas and Royal Panda
Withdrawals: Yes
Account credited instantly: Yes
Fees charged by the casino: No
Support in Chinese and Japanese: Yes
iDebit is a bank transfer payment method which is an offshoot of Instadebit. iDebit is only available to Canadian players. Being a bank transfer option, casino players must have access to a Canadian bank account which is integrated with iDebit. A list of these is available on the iDebit website.
Armed with an iDebit account (or a credit card number if they don't have an account), players will be prompted to enter their iDebit password or card number to confirm a transaction. Deposits are credited instantly and are free of charge.
Instadebit
Instadebit casinos: Instadebit is accepted in most casinos in Asia that also cater to players in Canada such as BitStarz, LeoVegas, Royal Panda and VideoSlots
Withdrawals: Yes
Account credited instantly: Yes
Fees charged by the casino: No
Support in Chinese and Japanese: No
A popular bank transfer option for Canadian players, Instadebit acts as a middle man, facilitating transfers between your bank account and a merchant, in this case, an online casino. The transaction is validated via the Instadebit website, where you can use your bank details to verify the transfer.
Players can use US and Canadian dollar currencies with Instadebit for free. However, withdrawing from a casino to your bank using Instadebit costs up to $2.00 CAD. The number of top sites offering Instadebit banking methods is increasing.
Interac
Interac casinos: Interac is accepted in most casinos in Asia that also cater to players in Canada such as BitStarz, Casino Gods, LeoVegas, Royal Panda and VideoSlots
Withdrawals: Yes, though, not at every casino
Account credited instantly: Between 1 and 3 days
Fees charged by the casino: No
Support in Chinese and Japanese: No
Interac is an e-transfer service commonly used by players in Canada to process payments for purchases, such as casino deposits. Interac has partnered with many financial institutions and provided your bank is one of those; you can use it to deposit at a casino. Players can enter an e-mail address or phone number to send money via this bank transfer service, verifying the transfer via their bank.
There is a flat charge for players using Interac. That fee is typically $0.50 CAD for transfers of up to $100 CAD, and $1 CAD for every transfer worth more than a hundred dollars. Interac deposits are typically processed instantly. The only downside with Interac is that you may end up waiting 4-6 days to see casino winnings land in your bank. There will also be a small fee attached there, too.
iWallet
iWallet casinos: iWallet is available in a number of Asian online casinos, especially the ones also focusing on Japan. Please refer to the list of payment methods per casino further below.
Withdrawals: Yes
Account credited instantly: Yes
Fees charged by the casino: No
Support in Chinese and Japanese: Yes
iWallet is a popular online payment provider based in Hong Kong that can be used across Asia. The service enables players to deposit as well as withdraw funds without charge in an online casino. In fact, it works like any other e-wallets service such as ecoPayz or EntroPay. Signing up for an account at iWallet (if you haven't done so already) is effortless and also free of charge.
Using iWallet you can do your banking using different currencies including CNY, HKD and JPY. Don't forget though, that deposits are exchanged at the online casino since in most cases it is not possible to set up your account with an Asian currency as the base currency.
To top up your account at iWallet you can use a credit card or do a simple wire transfer via your bank. The latter method is free. Of course, you can also use the service to take out money, for instance by withdrawing to your bank account or by using their iWallet VISA prepaid card.
MuchBetter
MuchBetter casinos: The choice of MuchBetter casinos is expanding and can be used at, for example, Casino Gods, LeoVegas and Royal Panda
Withdrawals: Yes
Account credited instantly: Yes
Fees charged by the casino: No
Support in Chinese and Japanese: No
MuchBetter is starting to make a name for itself as one of the leading payment methods in Asia. The banking option is particularly prevalent in Japan, India and even as far afield as Canada. Quintessentially a mobile banking app (downloadable in the Google Play and Apple Stores), this portable e-wallet is finding a lot of customers in the online casino world.
MuchBetter has been developed by a team with years of combined experience in online gaming and digital payments. Regular users can also claim loyalty points, and these can be used to pocket cash from weekly draws. This mobile e-wallet offers low service fees and competitive exchange rates.
Players can deposit into their MuchBetter wallet using a variety of options, including bank cards and even crypto-currencies such as Bitcoin. After making a transaction to top-up their MuchBetter wallet, players can head to their favourite casino's cashier page. Enter the amount you wish to deposit, and then your mobile phone number. Confirm the transaction on your MuchBetter app, and you're good to go. The transfer should be processed instantly and is free of charge.
MuchBetter can also be used to cash out winnings. Once again, this occurs using the phone number/app verification process, with winnings typically arriving in your MuchBetter wallet within 24 hours or sooner, though this can vary from casino to casino. Lastly, there is the option to obtain a MuchBetter debit MasterCard too, however, this is currently only possible in Europe.
PayPal
PayPal casinos: Though payments via PayPal are accepted by a number of casinos online, the payment method tends to not be available to players in Asia, Oceania and Canada (at least, when it comes to casino-related payments).
Withdrawals: Yes
Account credited instantly: Yes
Fees charged by the casino: No
Support in Chinese and Japanese: No
PayPal should need little introduction. After all, millions of people use PayPal to pay for goods and services online on a weekly basis. For those not in the know, PayPal is one of the world's leading e-wallets. It is topped up via a linked bank account. Charges for this vary from country to country, with Canadians being charged 2.9% of the total transfer, for instance. Once the money is in a PayPal e-wallet, it can be transferred to a casino account instantly without charge.
E-wallets such as this can see players withdraw their winnings from casinos, too, often in as little as a few hours (max. 24 hours) for free. This makes it a welcome and speedy option for all players.
Paysafecard
Paysafecard casinos: Basically, Paysafecard may be used at every casino featured on this site. However, the payment method is not available in every country – see details below.
Withdrawals: No
Account credited instantly: Yes
Fees charged by the casino: Sometimes up to 2.5%
Support in Chinese and Japanese: No
Paysafecard is arguably the safest way to deposit at an online casino. The prepaid voucher can be bought online or in-land based retailers and other venues (units of 10, 30, 50, 100, 150 or 250 each). It comes with a 16-digit PIN which can be entered to top-up a casino balance, much in the same way as phone credit used to be used. Paysafecard is a popular service in both Canada and New Zealand, where it is frequently used to deposit.
Each Paysafecard code is worth a predetermined amount of money. Once the PIN code has been entered via the cashier section of a site, a player's balance is updated accordingly. Naturally, this system of topping up a balance is the most secure of all. However, Paysafecard cannot be used to withdraw funds from a casino, so another method is required to cash out winnings, for example, a conventional wire transfer.
POLi
POLi casinos: Casumo accepts transfers via POLi, however, the casino is only available to players in Canada, India, Japan and New Zealand.
Withdrawals: Yes
Account credited instantly: Yes
Fees charged by the casino: No
Support in Chinese and Japanese: No
Although an Australian payment method, POLi also has a big following in New Zealand, where it is one of the more popular options players might use to deposit at casinos. A bank transfer method, POLi transfers typically take up to 60 seconds to clear, giving players fast access to their funds. It is usually free to use this service, although individual bank charges may apply.
Players in Oceania can select this deposit method from any applicable casino. They will then be redirected to the POLi payment website, where they can choose their bank and log-in using their banking credentials to process a transaction. This method alleviates the need to hand over your bank details to the casino itself.
Venus Point
Venus Point casinos: As a payment method used exclusively in Japan, we recommend the casinos featured on AsiaOnlineCasinos.com Japan that accept players residing in Japan.
Withdrawals: Yes
Account credited instantly: Yes
Fees charged by the casino: No
Support in Chinese and Japanese: No / Yes
Venus Point is a popular online payment method in Japan and available at various online casinos. As with the other e-wallets, both deposits and withdrawals are possible. However, you are required to set up an account, if you haven't done so already. In addition, it can be used for withdrawing your winnings as well. As with ecoPayz and iWallet, Venus Point also offers Japanese support.
List of payment methods per each online casino
Account/player verification before withdrawing your winnings
You have been lucky at your online casino, and now it's time to cash out those winnings. Before you rush to the cashier's area and press that "Withdraw" button, you need to be aware of the player verification process, which is a requirement in any reputable online casino.
The reason for player verification is to avoid any misuse of your account as well as to prevent illegal acts such as money laundering. Even though some online casinos only require you to verify your account when a larger sum of money has been requested to be withdrawn all at once, it is always beneficial to get this process out of the way early on. For example, after you have just signed up. That's so that when your winnings are due for a cashout, you don't have to wait on the casino to still process your documents.
Documents required for account verification
Verification is not a complicated task, but it can take the casino one to three days to fully process your documents. Depending on the casino, the copies of documents you provide can either be uploaded within your personal player account or mailed to the customer support team.
To complete the account verification process, you are required to upload or send a copy of an identification document, e.g. a passport, ID card or driving license. Additionally, you are required to provide a copy of a utility bill for proof of address. The copies can be photographed or scanned copies. All details should be clearly visible. In regards to the utility bill, invoice or bank statement that you provide, it should not be dated more than three months; otherwise the casino's verification team may have to refuse the document as a valid one. Should this happen, it doesn't mean that you cannot re-send the appropriate documents in question in order to finalise the verification process.
Note: If you have deposited using a credit card, it may be possible that you may have to provide a photo of the front and back of your card, too. To feel secure, you can cover the card's number except for the first six and last four digits.
In case you are playing with an online casino bonus
Each online casino bonus is linked to so-called wagering requirements that need to be completed before the money from the bonus as well as any winnings generated from the bonus money can be cashed out. However, as a rule of thumb, you always place your bets using your initial deposit first, before the bonus money is activated in your account (the bonus is activated, once the initial deposit is exhausted).
Hint: As you always play with your initial deposit first, any winnings from that money can, of course, be cashed out (in that case, the bonus money is forfeited). This is true for online casinos that apply wagering requirements on the bonus money only. Casino offers, whose wagering requirements combine the money from the bonus as well as the deposit have to be approached with caution as any winnings generated are directly credited to the bonus money balance – thus they cannot be cashed out before the bonus requirements have been met.
As hinted before, while in some casinos you manually opt-in for the sign-up bonus, other casinos credit your account with the bonus straight after you completed your deposit. If you do not wish to have a bonus credited to your account, get in touch with customer service first, so that they can cancel the bonus for you. This may be advisable for offers whose wagering requirements combine both the bonus and deposit money.
Further details to consider when playing with a casino bonus include: how many times bonus money needs to be wagered in the casino games, as well as the available time frame in which to complete the requirements (usually between 14 to 30 days). Also, many online casinos have maximum bet limits, which usually comes to $5 per betting round (sometimes more). There are further details to consider – in case you are not familiar with the terminology we advise you to take a look at our bonus section.