As one of Asia's most popular table games, baccarat always draws a crowd. In more recent times, interest in the online counterpart of the classic has skyrocketed, thanks in part, to the new immersive (and authentic enough) experience players can dive into when visiting live casinos. Live baccarat brings you a touch closer to the real deal, with the atmosphere, excitement and ambience of real brick-and-mortar casinos and human dealers providing a unique backdrop to one of Asia's hottest card games.
Recommended Live Baccarat Casinos










+10 more (6 cryptos)










+8 more (10 cryptos)

Key Features of Live Baccarat Online
Like standard RNG (random number generator) versions of baccarat, live baccarat games can often come with slight twists on the rules. Of course, these enhance and add extra flavour to the game we already know and love. Common features of baccarat games include:
A Live Experience: Playing live baccarat involves gameplay over an HD video stream. The gameplay is handled by a real-to-life human dealer, with all the user's betting options displayed via a digital screen. The action is played out by the dealer, in an immersive baccarat experience complete with interchangeable cameras, and sometimes, cunning side-bets.
Commission or No Commission Baccarat: Keep an eye out for the rules of each individual live baccarat game you find. While a 5% commission is commonly paid out on winning banker hands, there are live baccarat games out there which do not charge such a fee.
Super 6 Baccarat: Super 6 is, by and large, played the same way as live baccarat. However, the game does offer a slightly different payout if the player's winning bet is on a Super Six hand. A Super Six win occurs when the player bets on a banker's hand winning on 6 and pays out a whopping 12:1.
There are, of course, other baccarat variants out there and they all tinker with the rules in some way, shape or form. Some include VIP stakes, and others are designed for the penny pinchers amongst us. Some live baccarat games feature short delays between hands, and others contain side-bets, such as extra winnings for pairs. Explore what's around before you decide to commit to one live baccarat game over another.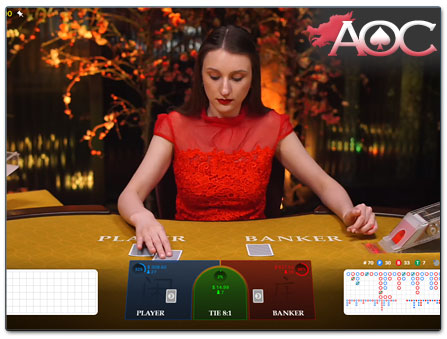 Live Baccarat Games in More Detail
Asian players love to have a flutter at baccarat, so it bodes well that there are plenty of variants out there. Some of the more common live baccarat games you can play include:
Live Baccarat
The vanilla version of live baccarat games is also the most common and most popular of all. Unlike other live casino table games, players of most live baccarat are not limited to a certain number of seats at a table. Since you can wager on the banker's hand, the player's hand or a tie, everybody is entitled to have a crack at live baccarat, no matter how many people tune in to the stream. Of course, there are live baccarat games which do have set numbers of seats, though, in most games, this won't be an issue.
Most live baccarat games come with several handy options, such as adjustable cameras, and past game history. Many also allow you to place side-bets (as mentioned above) and feature 8 decks. Streams tend to come from across the globe, although Macao-based streams are always going to be more popular with players from Asia.
Speed Baccarat
Speed Baccarat is one of several live baccarat variants you can sometimes find in Asian online and live casinos. As its name implies, there is a fast and speedy element to this game. Amongst the features which differentiate it from live baccarat are…
Players have half the time to make their bet. Ordinarily, live baccarat games take 48 seconds or so. This is cut down to around 27 seconds with Speed Baccarat, with the betting time in-between games fixed at just 12 seconds.
This baccarat game does not feature random shuffling.
The streams for this game tend to come from Eastern Europe, rather than Asia.
Mini Baccarat
Live Mini Baccarat offers a unique way to play the game. This baccarat game also uses 8 decks and offers random shuffling. There are a few things which distinguish it from live baccarat, though, such as…
This live baccarat game comes with a handy selection of side-bets, such as Pair Plus.
There are seats at this table, with a total of 7 available.
Offers roadmaps and bet/hand tracking to and help players "predict" future games.
Squeeze Baccarat
Live Squeeze Baccarat is one of the more popular baccarat variants amongst Asian players. The most appealing aspect of this game is that it allows players to "squeeze" cards, which happens to be very popular amongst Chinese players. The ritual involves squeezing the cards before they are turned over.
The squeezing of the cards is replicated by a close-up camera shot.
This live baccarat game features arguably more adjustable cameras than any other live dealer game, with anything from 15-17 cameras used in the games, particularly for the "squeezing" aspect of the game.
Mobile Gameplay: Note that you can play live baccarat and the other games on your mobile and tablet, too. Just as you would visit your preferred online casino in the web browser, log into your account and launch a title, the same applies to the games in the live casino lobby. A casino app is not required either, though, some sites do offer them optionally.
---
Recommendation: Live Casino House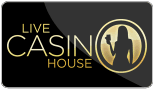 If live dealer casino games are your forte, you can't go wrong with Live Casino House. Playable in English, Chinese, Japanese, Thai or Vietnamese, their collection of live games are streamed from various top casinos and studios across Asia, with the likes of Evolution Gaming and Ezugi providing the games, amongst others. Also keep an eye out for their selection of Asia Gaming (AG) speciality casino games (see video below), if you want a taste of home when playing online at this site. Last but not least they also feature a dedicated section for slot games.
---
On-Table Options When Playing Live Baccarat
Like most live dealer games, live baccarat games can come with several on-table features, and these can include:
Adjustable Cameras: These allow players to get right to the heart of the action.
Side-Bets: Some baccarat games offer them, and others don't. Even when they do, the types of side-bets vary from game to game.
A Host of Interactive Tools: Interactive tools in live baccarat games can see you able to view the results of previous hands, access road maps to potentially predict future games, and more.
Baccarat Betting Options
Like most baccarat games, live baccarat has a set number of bets you can make. Just because you are taking a seat at a live baccarat table does not mean that you must bet on the player's hand. Options you have open to you include…
Banker's Hand: You can choose to bet on the banker's hand if you wish. Ordinarily, you can expect to pay a 5% commission on any winning banker's hand you bet on. This means that the payouts are 0.95:1, unless you happen to be playing a commission-free live baccarat game.
Player's Hand: Betting on the player's hand will generally see you pocket 1:1 winnings.
Tie: You could also bet on a tie. This is the least likely outcome of the three main baccarat bets, which is why it comes with winnings worth 8:1.
Side-Bets: Regardless of whichever type of side-bet you are aiming to play, side-bets must be placed before the start of each game. Perfect Pair side-bets pay out if the first two cards of either the banker or player hand form a suited pair. These result in wins worth 25:1. Other side-bets offer different pay rates.
The RTP in Live Dealer Baccarat
Live baccarat has a rather complex structure in place when it comes to the RTP (return to player) rate of games. The RTP varies depending on the type of bet you make. The RTP rate for a banker bet is 98.95%. RTP rates on player hands at 98.76%, and on ties they drop dramatically to 85.64%, naturally making ties less favourable to players.
Things get complicated when you introduce Perfect Pair bets into the game, with a Perfect Pair bet RTP rate set to 91.95%.
Ultimately, these are just theoretical return to player rates, and since each provider of live baccarat games has their own take on the rules, the odds are that the RTP rate of each baccarat variant will differ slightly from its counterparts.
Play Baccarat Online – How to Credit Your Online Casino Account

Asian live casinos will often accept a decent enough selection of deposit methods for you to fund your live baccarat sessions, with known deposit methods including ecoPayz, Venus Point, iWallet, and conventional card payments, to name just a handful.
As is the case in many online casinos the USD will form the base currency of your account since local Asian currencies are not supported. There are exceptions, though, for instance, BitStarz Casino which is available in English, Chinese and Japanese that also enables you to deposit and withdraw using Chinese Yuan and Japanese Yen in addition to various cryptocurrencies.. If your account base currency happens to be USD, then the money you deposit using a different currency, is, of course, exchanged when it is credited to your casino account.
Note that live casino games are not available in fun mode. When you are logged into your casino account, though, you may take a peek at the action unfolding at the tables. However, gameplay is only possible in real money mode.
Live Baccarat Bonuses

As with most live casino games, live baccarat bonuses are hard to find. At least, bonuses which are specific to baccarat are not commonplace. General live casino welcome bonuses can be found, though. These will typically only be valid on the most common live casino titles, of which live baccarat is one of them – further details on table games bonuses.
Aside from rather generic live casino welcome bonus or deposit bonus offers – which you can certainly use on baccarat games – what else is there? It is not impossible that you may find a cashback deal, whereby a site offers you cash back based on losses you have incurred playing live baccarat at their site. These offers are superb but rare, so don't expect them to appear frequently. It is always worth digging around first, though, to see if you can spot an Asian casino which offers them before you decide to sign up and play at such a casino.
The History of Baccarat: One of the First European Gambling Games
Baccarat is one of the first European gambling games to appear in history. Just how old the game is, though, nobody can quite rightly say. Baccara (Italian for "zero") first popped up in the Fifteenth Century, when Felix Falguiere allegedly created it. However, there are reasons to believe that the Etruscans (a pre-Roman, Italian civilisation) may have played the game with 9-sided dices up to a thousand years before. Baccarat was eventually exported to France, where it became known as Chemin de Fer, and then to England. Ultimately, settlers brought it to the New World relatively unchanged.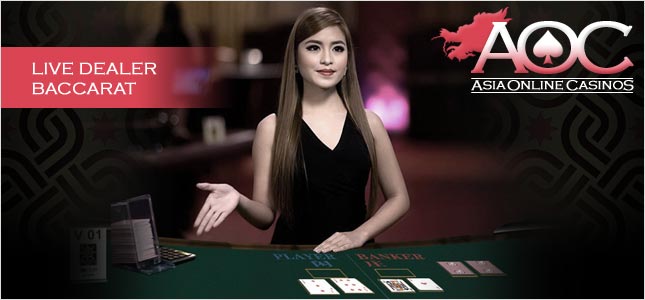 In more modern times, it debuted at the neon-lit casinos of Las Vegas, and eventually, as technology advanced, online casinos. Although not as popular as other card games in the West (where it is more fondly known for being the game of choice for one, James Bond), baccarat is one of Asia's most popular casino gambling games.