Can you play live baccarat with a strategy? Anyone who asks this question is not alone among the multitudes of baccarat players in Asia, whether casual players or high rollers. After all, the answer is YES, at least to some extent.
Players have different views on baccarat betting strategies. Sometimes they taunt each other about who has the best strategy or is right or wrong. The bottom line is that baccarat is an elaborate coin flip. Even the best baccarat strategy doesn't overcome the house edge. In other words, it's pure chance!
Live Baccarat Online Casinos in Asia
Baccarat Betting Strategies Quick Links:
---
Baccarat Strategy FAQ
Short and sweet, our FAQ on betting strategies in live baccarat.
Baccarat Odds and Variance
First let's go through the structure of baccarat. What's neat about this game is that unlike blackjack or casino poker which have many rule variations and therefore the house edge and RTP varying, baccarat basically sticks to one universal rule. This is especially true when it comes to online live baccarat (with the exception of the "no commission" variant, which will be touched on in the next section).
Although the rules look complicated at first glance (see baccarat drawing rules for further details), unlike blackjack where players always have to make the decision to hit/stand/split etc., all you can do in baccarat is to bet on either the player hand or banker hand (or a tie) and hope your side wins.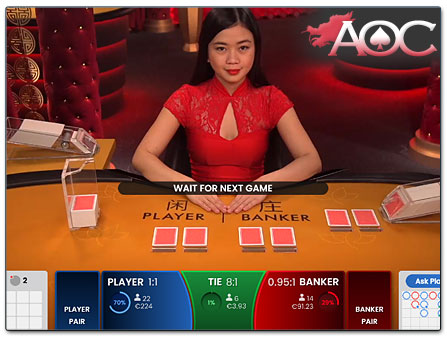 5% Commission on Successful Banker Bets
Now, thanks to the drawing rules and the fact that you get your player/banker bet back on a tie, the game is essentially a coin flip between the player hand and banker hand. Do note that a 5% commission will be deducted when you win with a banker bet, because the banker hand has a higher winning percentage than the player hand. That being said, even adding in the commission, the banker bet still has a slight advantage over the player bet, as follows.
Winning percentage: player – 44.62%, banker – 45.86%, (tie – 9.52%)
House edge: player – 1.24%, banker – 1.05%, (tie – 14.32%)
RTP: player – 98.76%, banker – 98.95%, (tie – 85.64% in 8 deck and 85.68% in 6 deck baccarat)
You can also bet on a tie (meaning the player and banker ending with the same value). The tie bet, however, has one of the worst odds among all casino games. Therefore there is no justifiable reason or situation for this wager.
So the bottom-line baccarat strategies are:
Ideally only bet on the banker
Never bet on the tie
Still, both the player and banker bets boast one of the best odds among all casino table games, although a shade lower than blackjack played with perfect strategy (over 99.5% with optimal rules), but significantly higher than roulette (American variant – 94.74%, European – 97.30%).
Different Variations of Live Baccarat Tables
Nowadays, every online casino typically provides several to a couple dozen live baccarat tables. Although the "regular" variant makes up most of them, there usually are a few variants with tweaks offered for added excitement. Let's take a look at the most popular ones.
No Commission Baccarat
The "no commission" variant takes away the only obstacle from the game of baccarat – the banker commission! So, everybody should be playing this version and be betting on the banker, right? Not so fast.
Instead of the regular version of the game deducting 5% on every banker win as commission, the "no commission" variant pays you 1:1 when you win on a banker bet, just like winning on a player bet – but with one exception.
That exception occurs when the banker bet is won with the value of 6. In that scenario, the payout gets cut into half (1:2). So, for example if a $100 banker bet wins with a 6, you only profit $50.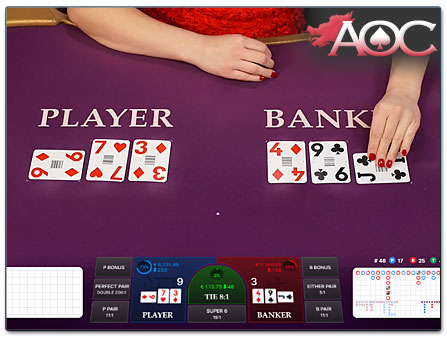 What About the Overall RTP for This Variation of Baccarat?
Drawing rules remain the same so the RTP on player and tie bets are exactly the same as the regular version. Curiously enough, the RTP for banker bet is 98.94%, strikingly similar to the regular version with a 98.95% payout.
Therefore, it can be said that whether choosing the regular version or the no commission variant is completely up to each player's preference. Do note though that most betting strategies still won't work with banker bets (more on betting strategies here).
Baccarat Squeeze
At brick-and-mortar casinos, "Squeezing" cards have traditionally been the highlight of this somewhat monotonous game. First of all, what does it mean to "squeeze" cards in baccarat?
In a mini baccarat game or regular live baccarat tables, the dealer deals all the cards face up. On the other hand, on a traditional baccarat table, the player who is wagering the largest bet actually gets to turn over the second card (and the third if needed) that is dealt face down. Not only that but that player has the right to bend or even tear the card as they wish!
Needless to say the value of the card won't change, but an experienced baccarat player knows how to add to the excitement by slowly peeling (squeezing) the cards in a specific way.
Now, on to the "Baccarat Squeeze" table at live casinos:
Players obviously have no ways to physically touch the cards, so the live dealer instead will do the squeezing for you. All of the cards on both the player and banker sides won't be squeezed though. Only the second and third card of the side with the largest total wager will be.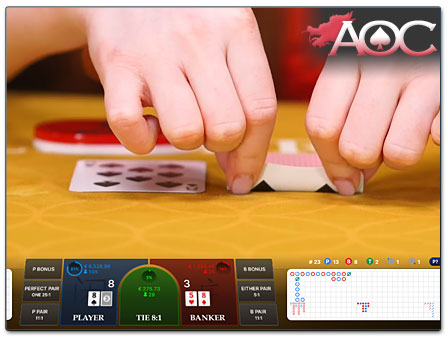 Baccarat Control Squeeze
"Baccarat control squeeze" is a modified version of "baccarat squeeze", released by the front-running live casino game provider, Evolution Gaming (or simply EVO). What's eye-popping about this version is that players can now squeeze the cards all on their own, thanks to the adoption of the latest technology.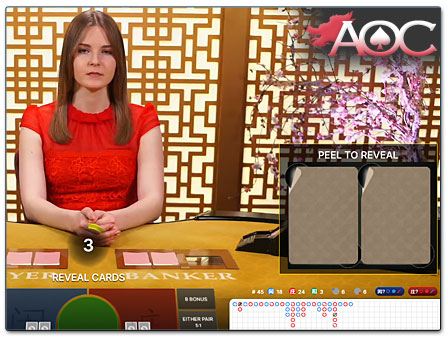 So this is how it works:
It is played on a multi-player table, but all cards are dealt face down.
Additionally to the live table, cards get displayed on each player's individual screen (also faced down).
Each player can click (tap) on the cards to turn them over right away.
Each player can squeeze the cards from each card's corners.
After 5 – 12 seconds of squeezing time provided to the players expire, the dealer turns over all the cards and winning bets are paid.
So the game moves a bit slower than the regular version for obvious reasons, but all of the essence of baccarat is here (more tips on squeezing here). Also note that most baccarat tables at brick-and-mortar casinos require a minimum of at least $100 to squeeze the cards, but it can be done for a mere $5 on a live control squeeze table!
For these reasons, the control squeeze variant is our favourite baccarat recommendation.
Super 6
The "Super 6" variant is basically "no commission baccarat" with an array of side bets, most notably on a banker win of 6. Do note that almost all of these side bets offer very low RTPs, making them huge "sucker bets". Not only that, but straight-up banker win on a 6 is a push on some providers. Although the various side bets might look intriguing, stay away from this variant.
Non-English Tables
Socializing with the dealer and other players on the table can make up a large part of entertainment value for some players. While most live baccarat tables are played out in English, some providers, notably Evolution, Pragmatic Play and Ezugi (an Evolution subsidiary), offer a wide array of European and Asian native speaking tables such as German, Spanish, French, Italian, Finnish, to Chinese, Japanese, Hindi, and more!
Note, however, that no commission and squeeze variants tend to be offered only in English.
Baccarat Betting Strategies – Do They Really Work?
We've explained how the game of baccarat fundamentally works thus far – banker bet having the best odds, side bets (including the tie) are to be avoided, and the best live tables to play at. Now we move on to actual strategies.
The ones that get mentioned the most are betting strategies (or betting systems). These are strategies where the size of bets follow specific patterns, ideally meeting each player's goals after a game round comprised of certain number of hands.
Betting strategies can be categorized roughly into two types – negative progression and positive progression. Let's take a look and see if either works in the long run to beat the game of baccarat.
Martingale Strategy (Negative Progression)
Perhaps the most famous of all betting strategies is the Martingale strategy, which also is the foundation of all negative progression strategies. The Martingale system is very simple and is easy to employ. Here are the methods:
Double the next bet if the initial bet loses.
Keep doubling the bet until it wins.
After a win, go back to betting the initial amount.
What's great about this strategy is that no matter how many hands in a row you lose, a single win at the end will not only recover all of the losses to that point, but you also come out positive for the amount of the initial bet.
Is Martingale the Best Baccarat Strategy?
So, this must be the ultimate strategy for baccarat, right? Well, in theory, absolutely. But not so fast.
Let's say you start with the initial bet amount of $1. Unfortunately, you lose 10 hands in a row. Guess how much you have to bet next? A whopping $1024! Adding all the wagers up to that point, you would have invested $2047 by then. And that amount keeps on doubling until a hand is finally won.
The profit made after investing thousands of dollars? The initial bet of $1. You might think losing 10 hands in a row is a very rare occurrence, but it does happen roughly every 1,000 rounds employing the Martingale system. Considering a hand of live baccarat only takes less than a minute, it will come around more often than you think.
Max Wager Limits Apply
Hypothetically, a player with an unlimited budget will always end up beating the game of baccarat, right? Again, in theory, yes. But the casinos are aware of this too. And even the biggest casinos on the planet don't have unlimited budgets. Therefore, every baccarat table has a table cap (max wager limit) imposed by the casino.
Particularly on online casino live baccarat tables, max bet tends to be set at $5,000 – $10,000. Even on the highest-limit VIP tables, the cap is set at $50,000 or $100,000 (and the minimum bet is normally set at $100 or more at these tables).
So keep in mind that the Martingale strategy is a high-risk, low-return betting system that wouldn't work infinitely.
That all being said, in the short run, Martingale strategy can score a very high success rate. Also, there are other strategies modified from Martingale such as the D'Alembert system, Labouchere system, or Fibonacci system.
These are all variants of negative progression betting strategies designed to somewhat ease the exponential nature of Martingale. By setting the bankroll limit and choosing the appropriate betting system wisely, Martingale (or any of the modified negative progression strategies) can be a powerful arsenal to your live baccarat play.
Lastly, do note that in baccarat, Martingale along with most other negative progression betting systems only work on player bets, as a banker win does not pay out a full 100% of the wager because of the commission. Same can be said for no commission tables, as a banker win of 6 only pays out 1:2.
Reverse Martingale (Positive Progression)
Reverse Martingale, or Anti-Martingale, as the name suggests, is the opposite of the Martingale betting system. Much like the original Martingale, the system works plain and simple. In Reverse Martingale, you keep doubling the bet when you win.
The bottom line of this betting strategy is that no matter how large the bet becomes, any time you lose, you'll only be losing the initial wager amount. On the other hand, a long winning streak will gain you an exponential win, making Reverse Martingale a low-risk, high-reward betting strategy.
Aside from the fact that you don't have to worry about risking so much other than the initial wager, another advantage of Reverse Martingale is that you can set your own goal (or in other words, decide when to quit). For example, to win 5 hands in a row, or score 100x of the initial bet etc. Then you can always choose to start over from a small bet or move to another table, or quit the game. And even if you don't set a goal, eventually your Anti-Martingale bet will reach the table cap. If that happens, you'll be scoring an enormous win!
As with any baccarat betting strategy, Reverse Martingale does come with a downside though. No matter how smart you feel after successful Reverse Martingale sessions, in the long run, house edge will eventually come into play. Always be reminded that there is no such thing as an almighty baccarat betting strategy.
That being said, there are other positive progression systems modified from Reverse Martingale, such as Oscar's Grind, Paroli system, and Reverse Labouchere. They all have their pros and cons, but due to the nature of positive progression, unlike the original Martingale, they can be applied to banker bets as well as player bets.
Card Counting in Baccarat
Blackjack is known as one of the very few casino games where pros exist, meaning there is an established strategy that can make players money in the long run. It's also a well known fact, even to some non-gamblers, that the "established strategy" is card counting.
Now, being a similar game to blackjack in some ways, can card counting be applied to baccarat as well? If so, how come we don't hear about professional baccarat players?
Various mathematicians and game theory analysts have tackled the former question, and the answer is yes, card counting can be employed to create an edge in baccarat. Methods are very similar to counting cards in blackjack:
Starting from a fresh shoe, count the small cards that appear, namely 2, 3, and 4
Also count the 10s and face cards
As the game goes on, the more 10s and face cards already used and the more small cards remaining in the shoe give the player hand an advantage
Vice versa for the banker hand
Bet large preferably towards the end of the shoe when a favorable count arises (either on the player or banker)
So, back to the other question from earlier:
Why Do We Almost Never Hear of Baccarat Pros?
This is because the largest edge possibly gained by counting cards in baccarat is so much smaller than in blackjack. That means that a much larger bankroll will be needed to rake in a relatively small profit.
Still, card counting is about the only legally proven strategy to beat the game of baccarat. If you have passion and enough time and resources on your hands, why not give it a shot? Be aware though that card counting can only be done on live baccarat tables that use 6 or 8 deck shoes. It can't be done on RNG tables where cards get shuffled before each hand.
How to Utilize Roadmaps (Or Can You?)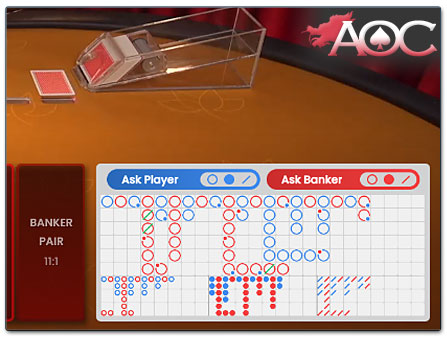 Baccarat roadmaps are charts or tables that show the results of the game to that point, typically displaying the player wins, banker wins, ties in different colors. There are a few variations, but can any of them be used to predict the next outcome?
Unfortunately, the answer is no, much like the roulette display board. Reason to this is because every hand in baccarat is an independent event (although we discussed the effectiveness of card counting earlier, the difference is negligible in most situations). So just because the banker won five times in a row doesn't mean the banker is likely to win the sixth (or that the player hand is "due" to win). Or, just because neither side has won three in a row doesn't mean the player hand is more likely to win after a consecutive banker win.
Making decisions based on roadmaps is largely popular among Asian gamblers though, almost like a ritual. It definitely adds to the entertainment value, especially when your predictions come true and makes you feel like "you" wrote the roadmap for the entire table.
Edge Sorting in Baccarat
In 2012, shocking news swept through the gambling world. A London casino filed a lawsuit against renowned poker pro Phil Ivey for the recovery of his baccarat winnings totalling £7.7 million. The allegation was that Ivey "cheated" the game (Punto Banco, to be exact) by using a technique called "edge sorting".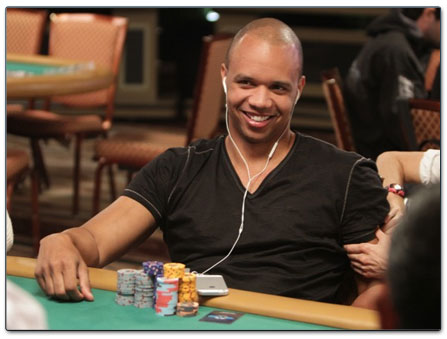 Legal dispute or not, poker pro Phil Ivey is not letting it spoil his good mood. 😉
Ultimately the court sided with the casino, with Ivey having to forfeit his winnings although he got his original stake of £1 million back. With no criminal charges pressed against him, whether or not the edge sorting technique constitutes cheating is still a popular topic for debate.
What Exactly Is Edge Sorting…
…and can it be used in live baccarat games? The trick of edge sorting is this – playing cards made by certain brands don't have perfectly symmetrical designs on the back, although the difference can be a fraction of a millimeter.
The next step requires somehow asking the dealer to turn around valuable cards like 7, 8, and 9 before shuffling so that these cards will be distinguishable, thus creating an advantage for the player.
Wise readers probably already have noticed that this tactic will never work online, unfortunately. It is impossible to designate the brand of cards to use, and also to ask the dealer to turn around certain cards in certain ways, especially now that the entire gambling industry knows about the Ivey scandal.
Tips for Playing Live Baccarat Online
Here are some tips before you dive into the world of baccarat at a live casino.
Baccarat Drawing Rules
In baccarat, whether or not either the player or banker draws the third card depends on preset rules. Neither side can never choose to hit or stand. In other words, you don't have to remember these rules to play the game properly. But it'll be a lot more fun if you do, so why not? So here are the rules:
If either hand's value is an 8 or 9 with two cards, the hand ends there.
If both hand's values are 6 or 7 with two cards, the hand ends there.
If the banker's value is 7 and the player's value 5 or under, only the player hand draws the third card.
In situations not listed above, the chart below is to be followed:
Banker's hand
Banker stands if the
player's third card is
one of the below
0 – 2
All cards (banker always
draws the third card)
3
8
4
0, 1, 8, 9
5
0, 1, 2, 3, 8, 9
6
0, 1, 2, 3, 4, 5, 8, 9
Tips on Squeezing Cards
As we touched on earlier, Baccarat Control Squeeze is our best recommended live baccarat table. If you're going to play baccarat, you might as well extract the most fun out of it, right? Here are some squeezing tips to maximize entertainment!
Traditional playing cards have the spade, heart, diamond, and club symbols lined up in specific ways:
Ace: one symbol in the middle
2 and 3: symbols are lined up in the middle row
4 and 5: two symbols each on each side
6, 7, and 8: three symbols each on each side
9 and 10: four symbols each on each side
J, Q, and K: a frame closer to the sides than the symbols of non-face cards
Squeezing excitement peaks when you already know the opposing hand and you're on your last card. There's also a timer on the Baccarat Control Squeeze table, so let's go ahead and turn over both your opponent's cards and one of your own cards. If both sides are on the third card, only turn over your opponent's.
When cards are faced down, numeric values are printed on the top left corner and bottom right corner. So you want to start squeezing from the top right corner or the bottom left corner. Here are some examples of exciting squeezing moments:
Your first card is a 9:
You obviously want a 10 or face card to make a natural nine. If a straight line appears right away, hurray! If you find a mark at the corner, slowly squeeze it and hope there are four marks on the side. Worst case is when there is no line or mark at all, because that card is going to be one of A, 2, or 3.
You have a 4 and drawing against a banker's 6 with two cards:
Hope to find two marks on the side. That'll be an instant win. Three marks on the side won't be the end of the world, as 6 or 7 will force a third card to the banker. No mark on the corner sets up the most excitement in this situation, as there can be all three outcomes. Slowly squeeze into the middle diagonally.
Your have a 2 and your opponent has 8:
First you'll have to nail three marks on the side. Even if you do, there are all three possible outcomes – win, tie, or a loss. Slowly squeeze into the middle row of the card. By the way when you become a veteran squeezer, you'll notice that the orientation of marks are aligned in very specific ways for these 6, 7, and 8 cards. Not sure what that means? Try it out and find out!
RNG or Live Dealer Baccarat?
Before the live baccarat tables with live dealers hit the online casino scene, all internet baccarat games were played on virtual RNG (random-number-generated) tables. Nowadays the live tables attract most of the baccarat players, although a few RNG tables are still offered at most online casinos, like the example below.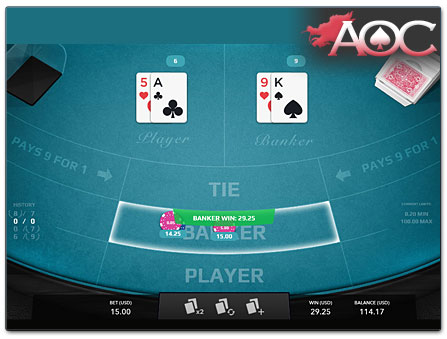 Our favourite is the Baccarat Control Squeeze table found in the live casino lobby as mentioned earlier, but choosing whether the RNG or live table is ultimately up to each player's preference. While you can enjoy the social aspect and even "squeezing" in some of the live baccarat tables, in RNG games, you can always have the entire table to yourself thus play at your own pace. If you're not sure which version to play, why not try them both out?