Few online slots continue to be popular long after they are released. The Mega Moolah slot by Microgaming breaks all that trend, though, as it is still one of the world's leading progressive jackpot games.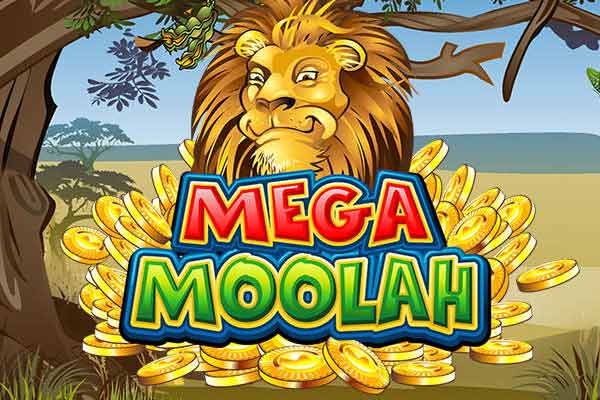 Unless you've been living under a rock for the last one and a half decades, you will surely have stumbled across or at least heard of Microgaming's Mega Moolah slot which launched in 2006.
The African Safari-themed game, also affectionately nicknamed (the) "Millionaire Maker" can be found in online casinos across the globe and keeps breaking its own record. In September 2018 it paid out the highest progressive jackpot win ever at over $21 million. At the same time, Mega Moolah knocked Mega Fortune off the throne, another popular jackpot slot machine by NetEnt which held the record before that (since 2013). Back then it paid out yet another mind-blowing jackpot sum of approximately 20 million USD.
Mega Moolah Slot Details
Slot Type: 5 reels / 25 paylines
Coins Range: 0.01 – 0.05 (up to 5 coins)
Min. / Max. Bet: 0.25 – 6.25 (all lines)
Features: Wild (pays x2), Scatter (pays x2)
Bonus: 15 Free Spins (can be retriggered), Jackpot Bonus Round
Multipliers: x3 in Free Spins Round
Volatility: Medium
RTP: 88.12%
Max. Win: 225,000 coins / prog. Jackpot
Software: Microgaming
Note: Bet limits may vary, depending on the casino.
Bets and Payouts
This slot machine is instantly recognisable, thanks to is quirky animal imagery and colourful reels, no matter if you play on your laptop or smartphone. The game was the first significant Microgaming slot to offer randomly triggered progressive prizes, a multi-tiered prize structure and their progressive wheel bonus. All of these are still amongst the biggest of lures for players today.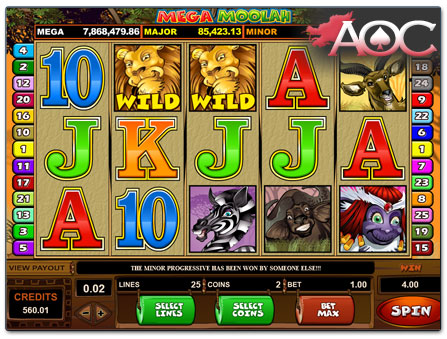 25 fixed paylines are spanning the slot's 5 reels, and with lines and coin values adjustable, you can spin and win on this game from as little as 0.25 up to 6.25 a spin (bet limits can vary as some casinos may offer higher staking options).
It is worth mentioning that Mega Moolah's paytable even states that the higher your bet, the greater your chances of winning the progressive jackpot (or at least to be granted access to the bonus round). Given the fact that other slots claim that players have the same chances at winning a jackpot however high their bets, this presents quite a statement.
Hint: Another progressive jackpot game from the Mega Moolah series goes by the name of Mega Moolah ISIS, an Ancient-Egypt-themed slot machine. Although the game features a different game mechanic, it is still connected to the same network and thus holds the same jackpot sum. The game is not available at every online casino, though.
When Lions Pay Double!
This Microgaming slot comes with a handful of basic (though still much welcomed) features, such as wilds and scatters, and a free spin bonus. Like many slots, you land a win when three symbols of a kind appear on a payline. However, some symbols already pay when they show up twice, including the valuable wild and scatter symbols. Wilds appear as lions, and these symbols can not only substitute for any other icons barring scatters but do also double the value of any winning combo in which they appear.
Triple Your Wins During Free Spins
As for the scatters, they appear as somewhat bizarre purple witchdoctor-like monkeys. Land at least two of these anywhere on the reels to pocket twice your stake, and three monkeys to trigger the Mega Moolah free spins. In the bonus round, you will get to play 15 free spins (can be retriggered), with all wins tripled courtesy of a 3x multiplier.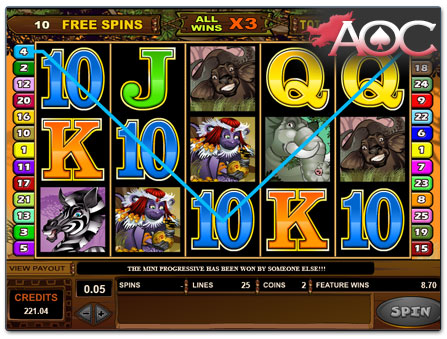 Mega Moolah Progressive Jackpot Bonus
The progressive jackpot bonus round, where you might end up winning a life-changing sum of cash, is triggered entirely at random. However, and as mentioned before, the more you wager, the better your chances of landing it are. Once you're in the bonus, you can spin a wheel of fortune to win one of four progressive jackpots – see video.
Four Jackpots Ready For The Taking!
Mega Moolah is a so-called progressive network jackpot. Therefore, all players' bets in the game across every online casino contribute to the overall prize money (provided, of course, that the casino features the game). Once you enter the bonus round you are guaranteed to walk away with one of the four progressives on offer, but the Mini, Minor, Major and Mega Jackpot prizes all offer vastly different sums of cash. If you want to win millions, you'll need to spin the wheel and land the latter.
When the jackpot is won, it is again seeded at one million Pounds Sterling since this is the slot's default currency, however, only when the jackpot is actually won in GBP.
Mega Jackpot seeds at 1.000.000 GBP
Major Jackpot seeds at 10.000 GBP
Minor Jackpot seeds at 100 GBP
Mini Jackpot seeds at 10 GBP
The Biggest Mega Moolah Jackpot Wins Ever
Now, for the best part. Mega Moolah has crowned fresh millionaires time and time again over the last decade (see list further below). Take a peek at the video, which is real footage of a Mega Moolah jackpot win at Genesis Casino. In November 2019, a lucky player from the United Kingdom was placing bets at £6.25 per spin and took home over 2.7 million GBP.
By the way, the jackpot win of 13.2 million GBP by a lucky British soldier back in 2015 is even listed in the Guinness Book of World Records. In any case, Mega Moolah broke its record once again when in September 2018 the jackpot was hit at almost 19 million Euros (close to 21 million USD).
Below we list the biggest Mega Moolah jackpot wins of all time (well, any single win(s) over 5 million USD). Mind that the yearly totals are just the actual jackpot wins, and do not include the smaller base game wins.
2007: Over 300 thousand USD paid out.
2008: Over 5.5 million USD paid out.

5,556,753.68 USD in April

2009: Over 9.6 million USD paid out.
2010: Over 2.8 million USD paid out.
2011: Over 4.4 million USD paid out.
2012: Over 11.8 million USD paid out.

5,883,044.00 GBP in December 2012

2013: Over 10.1 million USD paid out.

3,744,513.08 GBP in September

2014: Over 13.3 million USD paid out.
2015: Over 23.1 million USD paid out.

7,562,019.94 CAD in April
13,213,838.68 GBP in October (certified Guinness world record)

2016: Over 28.6 million USD paid out.

10,144,395.82 NZD in June
11,610,536.59 CAD in August
11,633,898.44 CAD in November

2017: Over 51.5 million USD paid out.

8,453,754.28 CAD in January
9,572,948.34 CAD in March
8,012,153.35 EUR in April
7,742,015.53 EUR in September

2018: Over 48,4 million USD paid out.

7,453,168.03 CAD in February
5,691,921.42 USD in April
18,910,668.01 EUR in September (unofficial world record)

2019: Over 69.5 million USD paid out.

20,059,287.27 CAD in January
12,945,668.34 USD in March
8,162,217.05 CAD in May
5,543,986.99 GBP in May

Now let's find out about 2020!
Mega Moolah Online Slot – Final Thoughts
Of course, not everybody is going to walk away from Mega Moolah with a prize worth millions of dollars. Nevertheless, although the game clocks in at a RTP rate of 88.12%, which is significantly lower than many other slots' average of 96% it is still a blast to play.
The reason for the lower return to player (RTP) is that a portion of the money spent on the game by each player across the globe has to go into building up the four different progressive Mega Moolah jackpots.
Since Mega Moolah is a medium volatility game, though, you can still cash in on decent amounts, and not have to sit through dry spells that are not uncommon for games with a high volatility/variance. That being said, this Microgaming classic is even more fun to play when the jackpot has built itself up for a while and seems ready to pay out at any time – see all Mega Moolah online casinos.
Add a Little Extra Moolah to Your Account

Naturally, online casino players in Asia can also enjoy this fun slot game. To tackle the behemoth that is Mega Moolah, you'll need to fund your casino account. Depending on which gaming site you play at, you may deposit using your local currency. If your currency is not supported, then the US dollar is the alternative default.
From AstroPay to VISA
You can choose from different payment methods online to top-up your balance, and depending on where you reside the options are more or less extensive. In addition to conventional VISA and MasterCard payments, players in Asia will also be familiar with e-wallets such as ecoPayz. Other payment methods include AstroPay, iDebit, Interac, Paysafecard, and even various cryptocurrencies such as Bitcoin.
Funding your Asian casino account is an instant affair. Once you pick your preferred payment method, the deposit is credited to your account within seconds. Until a withdrawal is credited to your account, it usually takes between a few hours up to two days which also depends on the casino you play at.
Note though that you will need to verify your identity with the casino before you make your first withdrawal (depending on the withdrawable sum, this step may be accomplished at a later stage). This process is a security measure and is only required once – more information on how to verify your casino account.
More Moolah for New Players

If you're joining an online casino for the first time, why not give yourself a helping hand? Most major Asian online casinos come with mighty welcome bonuses, and these could be just the ticket to see you able to build up a mighty stack of cash, which you can then use to potentially win major moolah on Mega Moolah.
Be aware of the bonus conditions though that every casino welcome and reload bonus is linked to. Any winnings generated with bonus money need to be wagered numerous times before a withdrawal is possible – detailed information on wagering requirements. If you choose not to play with a casino bonus, then this is, of course, also possible. Then you can rest assured that any winnings can be cashed out instantly.
Microgaming Online Casinos in Asia
In the below online casinos you can play the games by Microgaming.










+8 more (10 cryptos)










+10 more (6 cryptos)










+10 more cryptos









+16 more